I am a 24 year old guy that is a big time Jets fan so watching the New England Patriots during my lifetime has been very difficult. The Pats have been so good and the Jets have been so bad during my lifetime that it makes me want to puke. That being said, I believe that this dynasty will come to an end very soon. Within the next two to three years we will begin to watch a significant decline in the Patriots success and I think that the reasons why are pretty blatant.
Jimmy G. to the 49ers:
I'm not going to lie; I thought that this guy would be good but I did NOT know that he would be this good. This guy has moved to San Francisco and took a team that was 1-10 and finished 5-0. UNREAL. He seems to be like the real deal and could turn around that entire franchise for the next decade. As a Jets fan I am extremely jealous. I had read reports at the beginning of the season that Belichick actually preferred Garoppolo over Brady as his starter this year and was actually willing to ship Brady (maybe even to San Fran which would've been a coincidence considering they shipped Joe Montana in favor of Steve Young almost 20 years ago).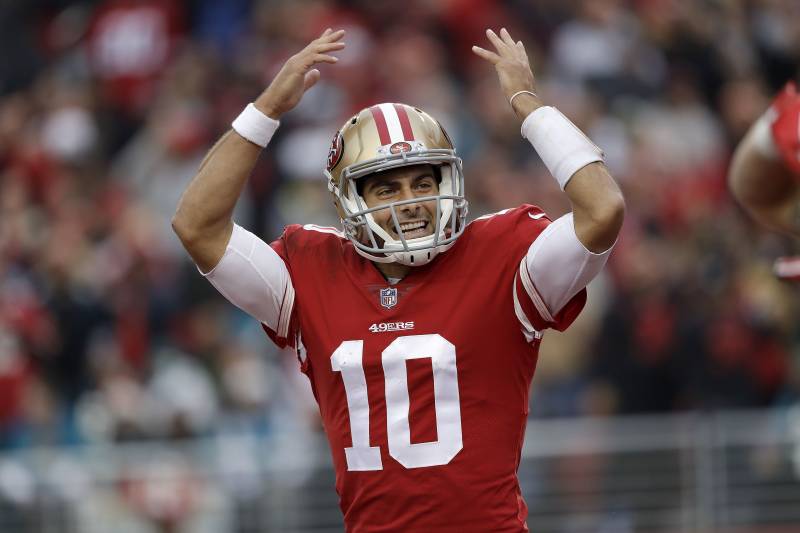 Even with Belichick's conviction, Bob Craft stepped in and wouldn't allow this which I believe really pissed Bill off which will lead to him sending him to the West Coast for only a 2nd round pick when they easily could've received a 1st rounder if he was shipped before the season started.
Matt Patricia and Josh McDaniels on the way out:
Because Belichick is pissed he is pulling a very uncharacteristic move by endorsing both his OC and DC for head coaching vacancies and is actually allowing other organizations this week to come to New England to interview his right and left hand man. Both McDaniels and Patricia are very highly regarded around the league and WILL get jobs as head coaches. I believe that McDaniels will end up with the Giants and Patricia will leave for Detroit. I think that Billy B is so pissed off at Kraft that he is going to let his men walk.
Spending Cash and Trading Picks:
The Patriots are known for being conservative with their cash, building through the draft, and getting rid of their own talent if they are a nuisance to their system. This year they went completely against this blueprint and spent big money while trading draft picks. In free agency they signed Stephon Gilmore, Mike Gillislee, David Harris, Lawrence Guy, and James Harrison while trading away draft picks for Brandin Cooks, Dwayne Allen, Marquise Flowers, and Phillip Dorsett. Combine all of this while trading away their only two contingency plans at Quarterback and this seems a bit off. They will undoubtedly be in a horrible salary cap situation in the next couple of years which might not be a coincidence.
Bill Belichick on the way out?
Yes, you read that correctly. I think that Bill Belichick gets out of New England within the next three years. If they had kept Jimmy G I believe that he would've stayed to try to continue the Pats dynasty but without him there I believe he's done. His team will not have a quarterback once Brady retires, won't have his Offensive and Defensive Coordinators, and the Pats will have a miserable salary cap situation. This will be a perfect time to leave Bob Craft in a horrible situation.
To wrap things up, I believe that the Patriots dynasty will end in 2 to 3 years because Bill Belichick and Bob Craft are not seeing eye to eye. For the first time in Bill's career his owner went against his advice and now the castle will tumble.