The day has finally come, boys and girls. Sure, Darrelle Revis has taken the money and ran to Tampa Bay (people forget that) and New England before, but today truly marks the end of the Revis Island era in New York. Revis was recently in the news for allegedly putting two squids in a body bag, meaning that Revis Island could very well end up being in Rikers Island if the charges stay true.
The Jets insist that their decision to cut Darrelle Revis was simply a business decision and that the role that he may or may not have played in Pittsburgh last week had no influence on this decision, and I agree. There was even language in Revis' contract that could have saved the Jets around $6 million due to this incident. However, the Jets front office decided to have a clean and healthy break with Darrelle, who despite the charges will one day be in the Jets ring of honor and a first ballot Hall of Famer.
There were times this past season that to me revealed that Darrelle Revis no longer has the competitive edge required to be a weapon in the National Football League. There were lackluster attempts at tackling larger Tight Ends and Running Backs. There were mental mistakes in coverage. And, there were times that Revis simply looked outmatched by receivers that had no business giving him…the business. For example: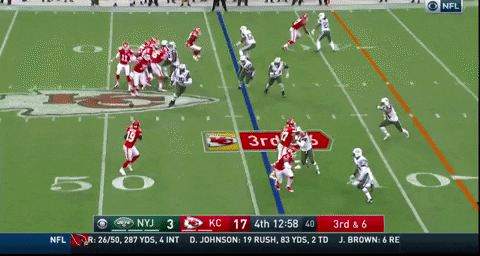 In what could've been a tackle for only a gain of a couple on 3rd and 6, Revis lazily shed a block and played patty-cake with Jeremy Maclin, allowing him to get very close to the first down marker with 13 minutes left in a two possession game. I remember seeing that play early this past season and knowing deep down that his time had come.
But enough focusing on the bad, lets focus on the good times with Darrelle. Revis spent 8 of his 10 years wearing green, recording 25 INTs and 3 defensive touchdowns. He was a true shutdown corner and was without question the best cornerback in the game for at least 5 of his Jet years. Current corners in the NFL molded their game after Darrelle's, and his impact on the game will be felt for years to come. For as long as MetLife Stadium stands, there will be hundreds, if not thousands of fans wearing a Revis 24 jersey on Sundays. He shut down an entire half of the field, even when there was no other help on defense. And when he did have help, man were those times glorious.
Although Revis did finally leave the Jets in 2013 and ended up winning a Super Bowl with the bad guys in 2014, he'll forever have his own chapter in New York Jets history. He was a generational talent and I hope he has future success both on and off the field. I'm just happy that our last memory as Darrelle Revis in a Jets uniform will be this interception in the 4th quarter of the last game of the 2016 season.
That isn't all that's been going on in East Rutherford these past few months, the New York  Jets have been making all sorts of moves.
For those of you that used to read my Jets blogs on my old site, you know that I have been hoping for a fire sale of everybody over 30 on the New York Jet roster. Here's what I wrote on December 6th, the day after the Jets embarrassing loss to the Indianapolis Colts on Monday Night Football:
The Jets need to have an 'everything must go' sale this offseason. Revis, Wilkerson, Fitzpatrick, Clady, Mangold, Marshall, Forte. I think anybody 30 or older is expendable on this team. Darrelle Revis is an ole sack of bones out there. Muhammad Wilkerson is reportedly causing locker room issues and has Leonard Williams biting at his heels. Ryan Fitzpatrick…..get out. Ryan Clady, good job, good effort. Nick Mangold, as good and reliable as he has been, the injuries are starting to pile up, and he is nearly 33 years old. He's a face of the franchise, so obviously it would be tough to see him go, but it's time to think about the future. Wes Johnson didn't look half bad when he was filling in for Mangold. Brandon Marshall is another guy that could/should be traded away. He's the oldest receiver on the team, and makes more money than Eric Decker. With Quincy Enunwa's emergence and the possible emergence of Robby Anderson, Marshall has now become an expendable asset. He could be an immediate help to a team on the brink of a championship run, and Marshall could finally find himself on a playoff team. And finally, if the Jets fulfill my wishes and draft Leonard Fournette, there is no need for Matt Forte to be on the roster, despite him being one of the better offensive players this season.
We already went over Revis, so lets go through the rest.
Nick Mangold
It hurts to see him go, but the Jets made another smart business decision in cutting Nick Mangold. He had been banged up the previous two years, which is a slippery slope for an offensive lineman. He was a phenomenal locker room presence and an even better presence on the field. Ole #74 was as reliable as they get out on the field, and he took being a New Yorker to heart. Mangold was never far away from an FDNY hat or an American flag, and he was damn proud of that. He'll be missed in more ways than one, but Wesley Johnson had proven throughout the season that he may in fact be a very suitable replacement for the aging star. Mangold could have easily been the stone-faced veteran just trying to get by, but he was a genuine role model and leader in a locker room filled with younger guys.
Nick Mangold could very well find himself in the Jets ring of honor, as well as the Hall of Fame once his career is done.
Ryan Clady
Ryan Clady signed a one-year "show me" deal…..and he didn't show much. Replacing the great D'Brickashaw Ferguson, Clady had giant shoes to fill and was unable to stay healthy. He's a good tackle when healthy, but the Jets were wise in cutting him and will look forward to either finding a replacement in free agency or the draft.
Ryan Fitzpatrick
Anybody with eyes knew that Fitz had to leave after his atrocious 2016 campaign. I don't think that I've ever seen such a drastic regression in any sport like that ever. The Jets voided his contract, leaving $5 million in dead money, but as our friend James Franco said:
With Fitzpatrick gone and Geno Smith now being a free agent, this leaves the Jets with Bryce Petty and Christian Hackenberg as their two QB options headed into free agency. Plenty of rumors are circulating about QBs such as Tony Romo, Jay Cutler, Brian Hoyer, Tyrod Taylor, Mike Glennon, and more, and it will be an interesting story to keep an eye on as time goes by.
Breno Giacomini
Breno was an average lineman with a bit of a price tag to him. He never panned out to be what the Jets wanted him to be, so they saved about $5 million by cutting him. A no-brainer in my opinion.
Nick Folk
Nick Folk was a New York Jet for 7 years. He was a very reliable kicker most of the time, but his price tag started to outweigh his talent. He never had the big boot, but he was clutch and could handle the New Jersey wind, which is no joke according to any special teams player who has ever played there.
It's going to be strange seeing Revis, Mangold, and Folk all replaced on the field next season, but once again this is a good business decision to save money and get younger.
Never forget:
The good news about all of these cuts is that it has saved the Jets a massive amount in cap space.
This opens the door for a bunch of possibilities, and the Jets may not even be close to being done. I still believe that Brandon Marshall could and should be traded away for a draft pick. Eric Decker is coming back from injury, Quincy Enunwa has become the most reliable target on the team, and Robby Anderson is the best home run threat the Jets have had since Braylon Edwards. All Brandon Marshall did last season was basically demand the Jets to resign Ryan Fitzpatrick (sad!) and then eat up 128 targets while only catching 59 of them. It's time for him to go and let the young pups play.
Muhammad Wilkerson and/or Sheldon Richardson should be expendable too. What was once called the Sons of Anarchy with current Giant Damon Harrison, Mo and Sheldon were reportedly at each others heads all season while performing very poorly on the field. Leonard Williams has proven to be a more valuable and level-headed player than both of them (combined)(*ducks*) which means that those two nut cases should be shown the door while the Jets can still get something back for them. Letting them both play out their contracts while putting out subpar numbers would be an absolute travesty.
Brian Winters
Anyways, some of that extra cap money was spent on resigning G Brian Winters to a 4-year deal. He was one of the few bright spots that the Jets had last season (except for when he gave himself a concussion by head butting Michael Bennett) by becoming a steady interior lineman. The Jets can now move forward with James Carpenter, Wesley Johnson, and Brian Winters on the inside while they look for the right guys at LT and RT.
John Morton
Previous Offensive Coordinator Chan Gailey announced his retirement this past January. About 4 weeks later, the Jets announced that John Morton would be taking his place. Morton spent his previous 2 years in New Orleans as the WR Coach, and the 4 years before that as the WR Coach in San Francisco. New Orleans has become a wide receiver factory with young studs such as Michael Thomas, Brandin Cooks, Willie Snead, and Brandon Coleman, so hopes are high that Morton can work his magic on some of the Jets' young guys. Prior to his stints in NOLA and San Fran, Morton was a receivers coach and Offensive Coordinator for the University of Southern California. There, he had the pleasure of coaching star QBs Matt Barkley, Mark Sanchez, and John David Booty to three consecutive bowl victories (2007 Rose Bowl, 2008 Rose Bowl, 2009 Emerald Bowl). In Morton's final year at USC, the school had a postseason ban due to recruiting violations with Reggie Bush. John Morton is a relatively unknown name in the coaching world, but he has coached under Pete Carroll and Jon Gruden. Hopefully he'll be able to take what he has learned from them and add his own pizzazz to make the Jets offense great again.
I'll end it here before I lose you all. Stay tuned for some free agency and draft talk in the upcoming weeks. Until then, please enjoy this video of Ohio State's Marshon Lattimore, who may very well be the Jets selection with the 6th pick in this year's draft.